Thanks
juliagooolia28 for inviting me. How'd ya find me? Just randomly? Hi! :D



[Basics]
1. Name: Kimberly, but most people call me Kim or Kimmy.
2. Age: 18
3. Location: Missouri
4. Hobbies/ Interests: drawing, writing, photography, making scrapbooks, making computer graphics, cartoons, reading, shopping, thrift shops, etc.etc.
5. Pick three words that describe you: dork, weird, imaginative

[Favorite/Least Favorite]
6. Bands: Pink Floyd, Matt Nathanson, Fiona Apple, Emiliana Torrini, Rilo Kiley, John Mayer, Maroon 5, N.E.R.D...many more. I like my music. Love country, R&B, punk, alternative, hard rock, pop (oh yeah I like to be in cheesy moods). I love when people give me new artists or not so popular artists to listen to and try out.
7. Movies: Say Anything, Sixteen Candles, Pretty in Pink, The Breakfast Club, Ferris Bueller's Day off (can you tell I am an 80's NUT!). I loveee movies though. I can't list them all. I have no least favorite movie except I am not a big fan of westerns. They just bore me.
8. Place to Shop: Charlotte Russe, Rave, umm I don't know. I like to shop at a lot of places and I have no least favorites. Well, expensive things make me mad!
9. Foods: Pasta, Mexican, Sushi, Chicken fried steak, potatoes, Starbucks coffee (food to me...i slurp it up). I just like food in general. I am not picky. Dang.

[What was the last...]
10. song you listened to: "(El Condor Pasa) If I Could"--Simon and Garfunkel
11. concert you went to: Matt Nathanson/Howie Day in July
12. place you went to: Umm...to get my hair done at Beauty Brands today. Does that count?
13. movie you went to see in the theatres and did you enjoy it: Wow, The Day After Tomorrow was the last movie I saw...I believe. I liked it because I love Jake Gyllenhaal and it was pretty good.

[Random]
14. Describe your clothing style: It's crazy, but I can't even describe my clothing style. I go prep to punk to athletic. I have different looks for my mood and all my friends get mad at me because they say anything looks good on me, while they would look goofy pulling the look. Clothes doesn't make a personality, they just make you feel better about yourself! So, I wouldn't classify my "style."
15. Pet peeves: slow drivers, rude people through my checkouts (when I was working at the grocery store), any high-pitched scratch sound, people who talk really really loud when you are one foot away, people who talk with their mouth full, liars, bugs....
16. Your most memoriable moment: Most memorable so far would have to be going to the lake with my friends in a pontoon and I got a goodbye kiss on the lips by a guy who liked me. He's adorable, funny...too cute for words and he liked me (I was surprised). And, yes we will be going out, most def. :D
17. If you could be anyone in the world,who would you be and why: Myself.

[Opinions on...]
18. Bush: I registered to vote. I have nothing against Bush as president because I am not in any particular party. Just I am voting for Kerry in November. That's all I have to say.
19. Drugs/Cigarettes/Alcohol: I don't do drugs, I wouldn't mess up my life like that/Don't smoke cigarettes..can't stand the smell, but have smoked a few cigars socially. I'm weird like that.
Don't have anything against it since I have family members do it/Have drank before, but I say...just do it responsibly. Don't drive, spend the night at the person's house if you have to or have a designated driver. Nothing against it, just be safe when you do it!
20. Avril Lavigne: I don't see why people hate her. Why can't she just do whatever floats her boat. She's making music and hopefully she's doing what she loves.
21. Trucker Hats: They're hot. I own two.

[Pictures]
Post 3 clear pictures and include a 100 by 100 pixeled picture of your face.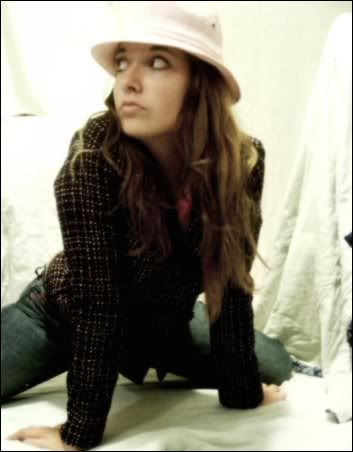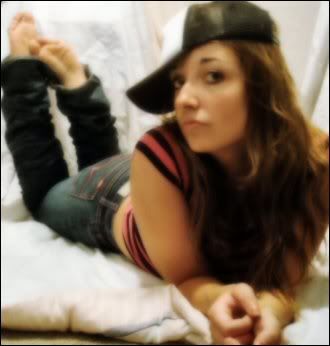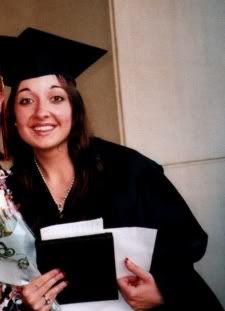 And my 100x100 :)